What is the Structure Genre?
The Structure Genre indicates to our reader who or what the change of the story will affect. It addresses whether the change will occur for a single AVATAR or throughout the whole system or context.
The Structure Genre is one of the five components of the GENRE FIVE LEAF CLOVER and it's helpful to remember that GENRE is a label that tells the reader what to expect.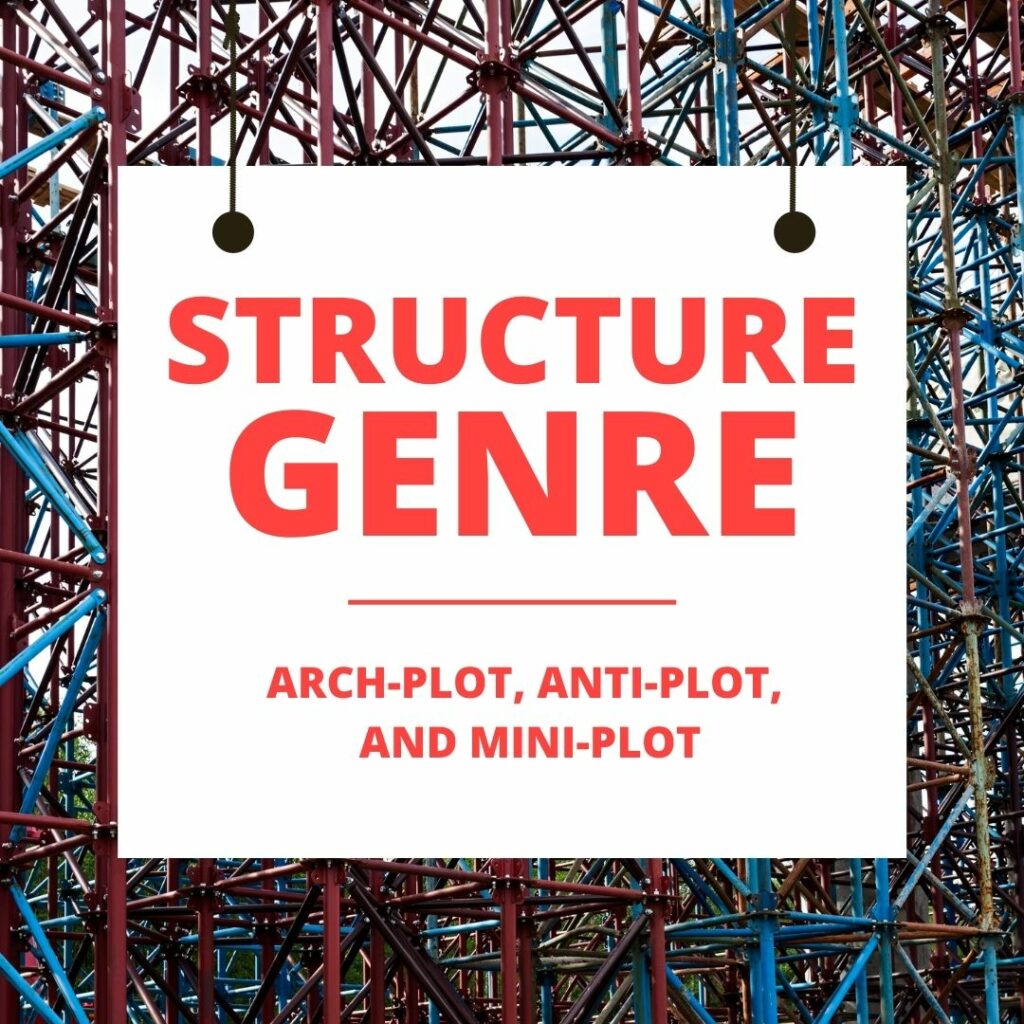 3 Categories of Structure Genre
There are three categories of the Structure Genre our stories can fall into:
1. Arch-plot
Arch-plot stories focus on the change in a single active AVATAR protagonist. This lead character pursues an OBJECT OF DESIRE (a new job, the love of his life, a college education, etc.) while confronting primarily external forces of antagonism (more qualified candidates, a better looking suitor, a high school teacher out to get him). The story ends "closed" with absolute and irreversible change in the life of the protagonist. There is no going back to the way things were at the beginning of the story. Novels like The Firm by John Grisham, Sense and Sensibility by Jane Austen, Carrie by Stephen King, and The Hobbit by J.R.R. Tolkien are all Arch-plots.
2. Mini-plot
Mini-plot stories focus on the change in a system over a single AVATAR, which is shown from many different AVATAR points of view. While many of the AVATARS follow their own arch-plot, each of them make up a node of the overall system, so we see how the system is transformed over the course of the story. Mini-plot includes "slice of life" literary stories such as Empire Falls by Richard Russo or Crossing to Safety by Wallace Stegner as well as epic stories such as Ragtime by E.L. Doctorow, the A Song of Fire Ice series by George R.R. Martin, and The Lord of the Rings by J.R.R. Tolkien.
3. Anti-plot
Anti-plot stories do not abide by any rules of causality and rebel against any formal structure of storytelling. While Arch-plot stories track the change of a single protagonist AVATAR and Mini-plot stories track the change of a system, Anti-plot stories will show no coherent change in the AVATARS and takes place inside of a system that makes no sense. Stories such as Waiting for Godot by Samuel Beckett and No Exit by Jean-Paul Sartre are examples of Anti-plot. 
How the Structure Genre Affects Your Story
Most of our stories will be told using Arch-plot or Mini-plot structure, and knowing the difference is important. If we are telling an Arch-plot story, then every scene must be focused on the journey of change for a single protagonist AVATAR. However in a Mini-plot, each AVATAR's story must show the change in an overall system.
---
Share this Article:
🟢 Twitter — 🔵 Facebook — 🔴 Pinterest
GET 100% OFF A STORY GRID BOOK OF YOUR CHOICE
GET 100% OFF A STORY GRID BOOK OF YOUR CHOICE
Sign up below and we'll immediately send you a coupon code to get any Story Grid title - print, ebook or audiobook - for free.
(Browse all the Story Grid titles)