Download the Math of Storytelling Infographic
How does one know when a story isn't working? I simply track the story's progressive complications — the escalating degrees of conflict that face the protagonist.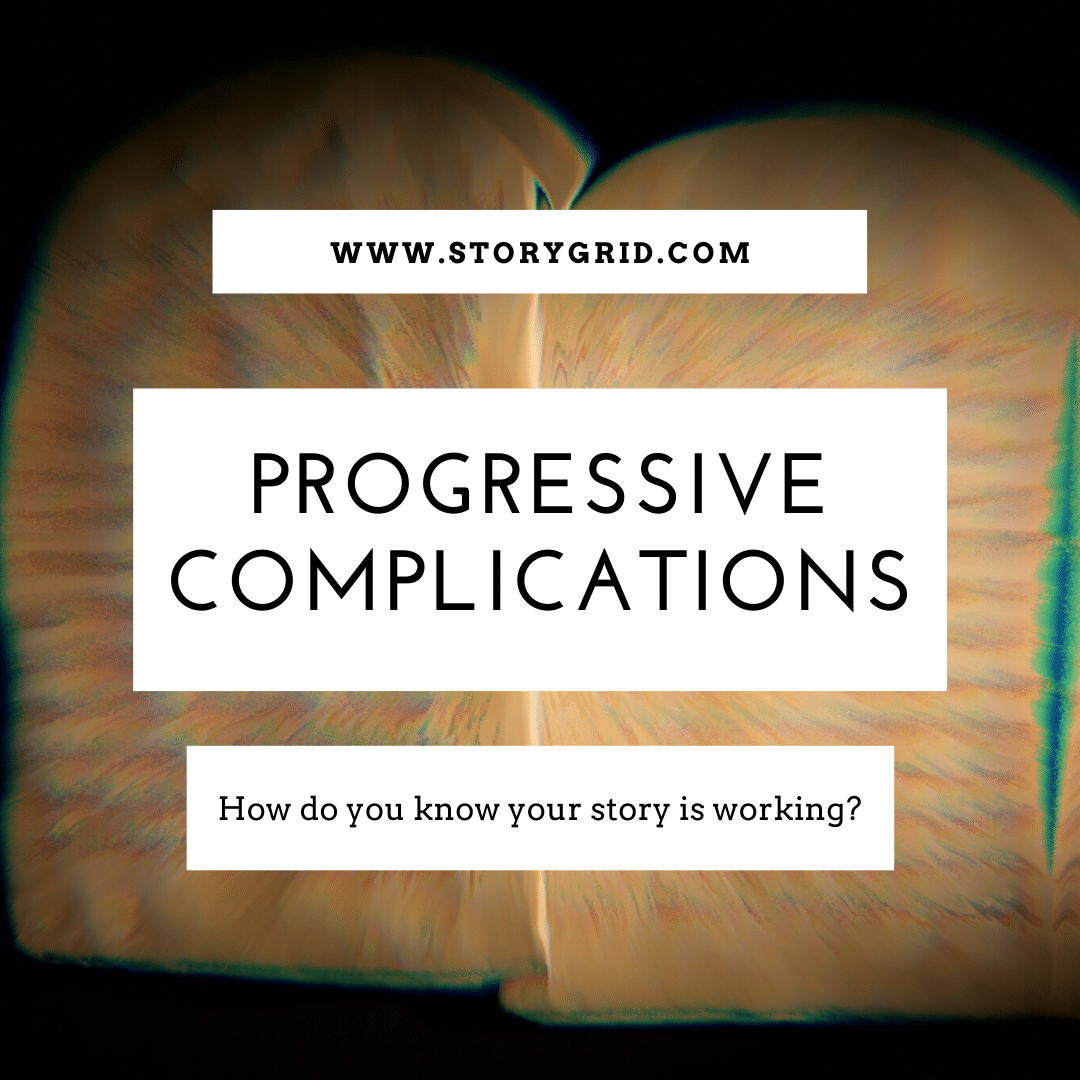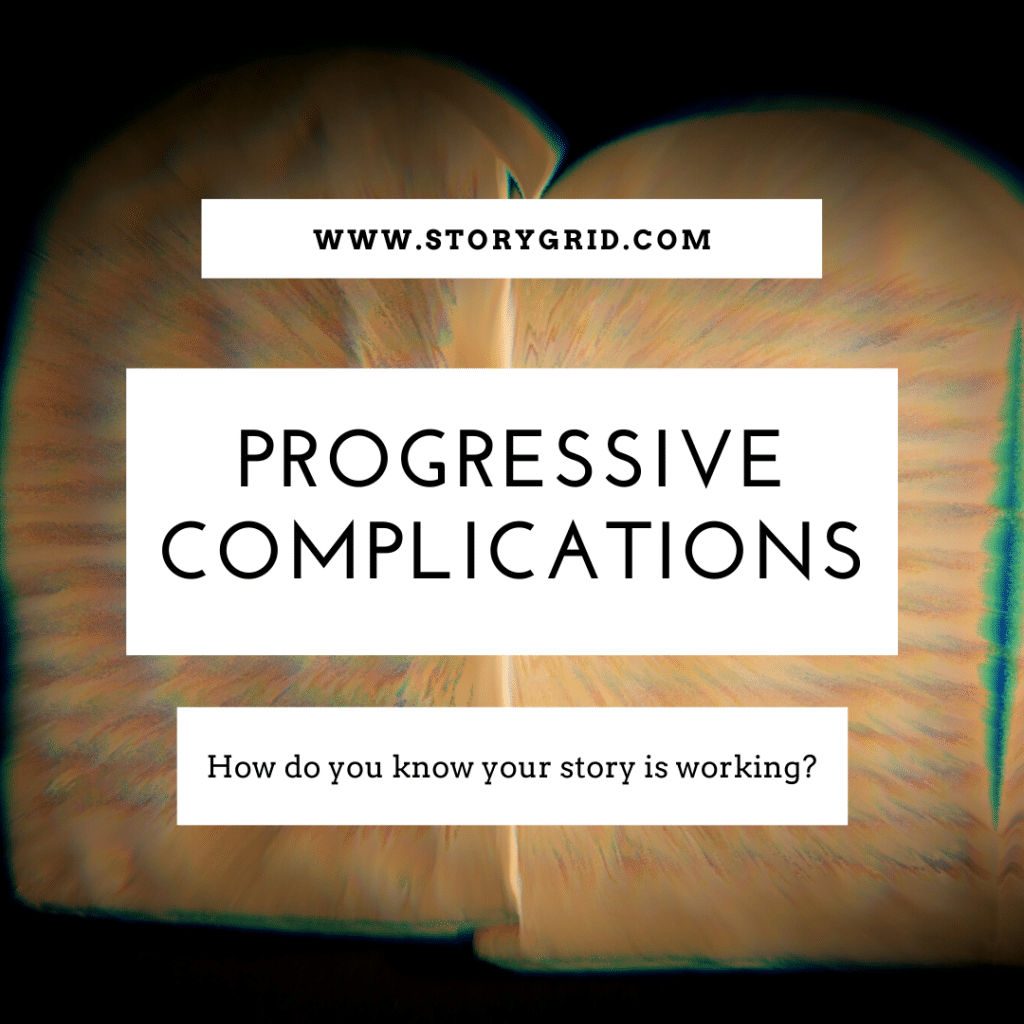 After more than ten thousand hours of publishing books, reading submissions and being pitched both fiction and nonfiction, progressive complications is just one of the criteria I use to separate the wheat from the chaff.
How do you do that?
Take this story pitch as an example:
An ambitious actor/lawyer/chef/programmer graduates from Julliard/Harvard/Culinary Institute of America/MIT and looks for meaningful work. After months of rejections, the actor/lawyer/chef/programmer decides to take a side job while continuing to look for what will ultimately make him happy.
The inciting incident of the story arrives (at long last) when he gets a part time job as assistant to a casting director/judge/Michelin star restaurateur/editor-in-chief of Wired magazine. As he works for the casting director/judge/Michelin star restaurateur/editor-in-chief of Wired magazine, he is exposed to all of the best new projects in Hollywood/Washington/New York/Silicon Valley and even gets to help out by being a reader during auditions/doing paralegal work/sous cheffing/writing code. The casting director/judge/ Michelin star restaurateur/editor-in-chief of Wired magazine notices his talent and decides to promote him.
By dint of hard work the actor/lawyer/chef/programmer gets the big job the rewards that come with it—status and money. But after a while, the actor/lawyer/chef/programmer grows weary of the big Hollywood grind/legal profession/food work/writing code and decides to go back to his first love, the theater/pro bono work/artisanal cheese making/new app innovation. He then auditions/takes up a cause/makes cheese/devises a new app that no one takes seriously let alone buys into. Until, at last, he gets a small time director/not for profit/cheese monger/software company to take on his life's work. The performance/cause/cheese debut/app launches, but to little acclaim. The actor/lawyer/chef/programmer loses his shirt on the project, but learns a lot about himself. He decides that his happiness is dependent on his relationships and not the fantasies of finding meaning through work. The End.
Does this story work?
And yes, the above is indicative of the kind of material that floods literary agencies and publishing houses. A very talented prose stylist could actually make the above rather entertaining too. And he'd also be able to hide behind a pseudo-genre like "literary slice of life" to boot. But no matter the writerly artifice, this story doesn't work. It may prove commercially viable depending upon the tenor of the times, but it will never last as a work of art. Let's assume the writer is not a celebrity or the hottest young thing to come out of the Iowa Writer's Workshop. So extenuating commercial potentialities are not in play here. That is, the literary agent can't sell the story based on just the identity of the writer. She has to sell it on its story.
Progressive Complications Must Escalate
Beyond the fact that there is no clear antagonist in the above, other than some vague hinted sense that the lead character is having "inner turmoil." Not to mention the fact that the execution of the inciting incident—getting a job—is a flaccid cliché. [There are a great many novels/screenplays that deal with Miniplot inner slice of life conflict with soft inciting incidents that do work. Madame Bovary/Lost in Translation anyone?] The fatal flaw of the above story is that the difficulties and successes that the protagonist must contend with (the conflicts) do not escalate. They remain boringly similar from derivative scene to derivative scene and from derivative act to derivative act.
Track the Complications
If you had to assign a number from 1 to 10 for each of the progressive complications in this and its anxiety/conflict level, and tracked the numbers from beginning to end, the result would look something like this…and I'm being generous:
(2) Graduation
(3) Quest to find meaningful work
(4) Not finding meaningful work
(3) Finding a part time job instead
(2) Having success at part time job
(3) Getting promoted at part time job
(3) Finding more success at job
(4) Leaving job to get back to quest for meaning
(5) Failing
(6) Getting the big break
(7) Failing
(3) Resigning oneself to meaningless work, for the sake of meaningful relationships
Are the Stakes of The Progressive Complications Raising?
You'll see just by following the numbers (2, 3, 4, 3, 2, 3, 3, 4, 5, 6, 7, 3) that the story just kind of slogs along. It goes back over the same old complications too. The stakes are boring as Hell. The lead character faces rejection when looking for work until he decides to lower his standards and accept a lesser status job. While at the menial job he gets the break of a lifetime and successfully takes advantage of it. Then he becomes disillusioned by his success and decides to shuck the entire career and start afresh. Then he goes back to trying to get work in his old career and faces yet more rejection. At last he gets a big break that turns out to be disappointing and then goes back to settle for something in between his dream and punching the clock.
It's not surprising that the above "story" sounds like the banal professional choices we all make at one or more times in our lives. But just regurgitating dull universal experience does not make for cathartic reading or viewing.
And inevitably if an editor were to tactfully point out that the story seems a bit undercooked and that the writer should think about committing to a genre or mixing two or more genres to ground some finer focused idea/theme…well you probably know how that usually ends. The editor would get a terse reply back. Thanks for reading, but that's not the way I work…I don't believe in formulaic genre hackwork.
But every now and then, an editor will find a pro, someone open enough (or desperate enough) to get back to basics. A writer interested in creating an inciting incident at level 10 with conflict/complications that progress from 11 to 100 by story's end.
Progressive Complications Move Stories Forward
Never backward. They do so by making life more and more difficult (in positive as well as negative ways) for your lead character. In other words, you cannot have your protagonist stare down the same dilemma in Act III or Act II that the character already faced in Act I. You must progressively move from one dilemma to a more trying dilemma to a bigger problem to an even bigger problem etc.
The payoff is when the lead character is faced with the limits of human experience—life and death. Cool Hand Luke, Sophie's Choice, Network, Unforgiven, Gates of Fire…walk us to the precipice of human experience and allow us to peer into the abyss. And we don't have to leave our comfortable seats to do it, either. That's called art.
So how can you be sure that your story does the same?
The Point of No Return
Ask yourself the simple question…how difficult would it be for my character to reverse his decision? Could he go back to his old life without any repercussions? A few repercussions? Or is there no turning back?
You've hit the Point of No Return when no matter what decision the character makes, he will be irrevocably changed by the experience. If he does one thing, he'll put himself in great danger (either physically or psychologically) and if he doesn't, he'll be tormented by his inaction, incapable of functioning the way he used to.
Evaluating Reversibility of Your Progressive Complications
The trick to remember when evaluating the reversibility factor is how difficult will it be for the character to go back in time if they make a certain decision. That is, can they make a decision and not have it affect their worldview? Can they go back to the way things used to be and not suffer any discontent or trauma?
If you re-read the example of the generic submission above, you'll see that no decision that the character makes will change them irrevocably. They can head back in time any time they'd like and not have their worldview changed in any way.
How do you know if you are falling into this same trap? That is, how do you know if you are progressively complicating the life of your character?
I suggest going back to the grading concept above and use the power of ten. Evaluate the difficulty for the character to reverse their decision in each and every scene that you write. With 10 being absolutely irreversible to 1 being an easy switch back. By the way, if your character isn't making any decision in a scene, it's not a scene. It's goofing around. Cut it or revise.
This article is part of the 5 Commandments of Storytelling series:
Download the Math of Storytelling Infographic