Download the Math of Storytelling Infographic
What is an inciting incident? It is the big event scene that kicks off your story.
It is also an equal or somewhat lesser event scene that opens your Middle Build or Ending Payoff.
It is an even smaller event scene that kicks off a sequence.
It is also a minor event that destabilizes a supporting scene within a sequence.
And lastly, the smallest inciting incident is an action in a beat that unsettles the relationship between two characters.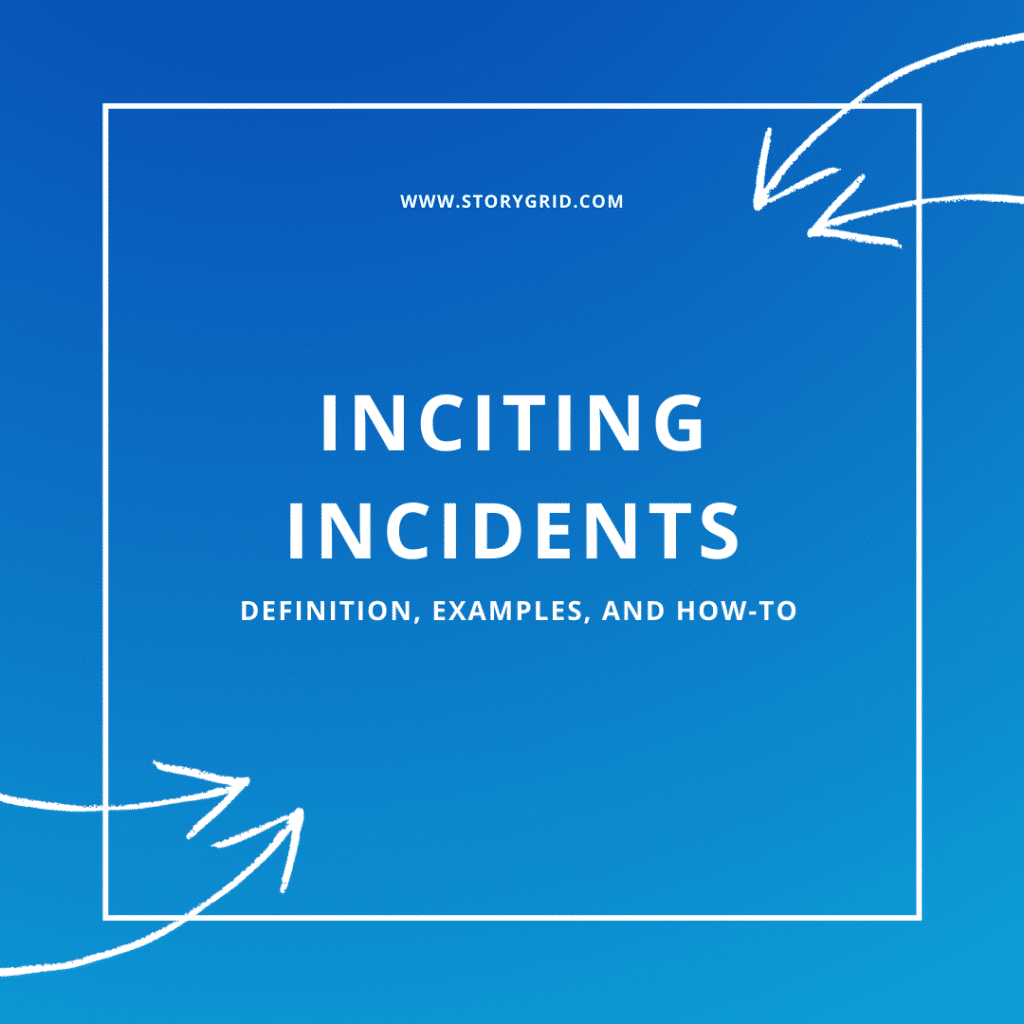 No matter the unit of story (beat, scene, sequence, act, or global Story) what the inciting incident must do is upset the life balance of your lead protagonist/s. It must make them uncomfortably out of sync…for good or for ill.
Two Types of Inciting Incidents
An inciting incident can occur in one of two ways:
Cause
Coincidence
A causal inciting incident is the result of an active choice—a wife leaves her husband, a man enlists in the Marines, a dentist molests a patient he's put under anesthesia.
A coincidental inciting incident is when something unexpected or random or accidental happens—a simple man wins the lottery, a woman takes the wrong suitcase at an airport, a piano falls out of a window and kills a man's dog.
What your choice of inciting incidents in every unit of story (beat, scene, sequence, act, and global story) must do is arouse a reaction by your Protagonist. For the examples above: perhaps, the man resolves to get his wife back, the recruit decides to fight against his Paris Island instructor, the patient hires a detective to investigate the dentist, the lottery winner decides to give away all the money, the woman with the wrong suitcase decides to keep it, the man who barely escapes the piano quits his job.
The Most Important Inciting Incident of Your Story
Obviously, the most crucial inciting incident you must choose is the event for the beginning hook. If you have a weak hook, no matter the genre (even the most mini of miniplots requires a compelling hook), there is little that can be done editorially to make your story work. Unless you start over.
Remember also that how your character acts—and refusing to do anything is an action too, especially in miniplot stories…it's actively hiding—must be in tune with your choice of external and internal genres.
Must Point to the Ending
That is, the inciting incident of a global story must make a promise to the reader…the ending. The ending must be a perfectly reasonable and inevitable result of the inciting incident. But it must also be surprising. If it is not surprising, it will not drive anyone to recommend it to his friend to read. Don't promise something and then not deliver it. That is the telltale mark of writer writing a book that will not work, no matter how great bits and pieces are within.
Conventions in Inciting Incidents
Many genres have conventional inciting incidents that set up obligatory climaxes. If you're writing a murder mystery, the inciting incident must be the discovery of a dead body. The climax of the mystery will be the solving of the crime. If you're writing a love story, the inciting incident will be when the lovers meet. The climax of the love story will be the answer to whether or not the couple stays together. If you're writing a horror novel, the inciting incident will be an attack by the monster, which sets up the obligatory climax, which is the ultimate confrontation between your lead character victim and the seemingly indestructible monster from your inciting incident.
You Must Have an Inciting Incident
Without inciting incidents, a writer has nothing…just a collection of riffs that don't add up in any coherent way…character sketches or meticulous Proustian descriptions of inanimate objects that have zero emotional payoff. That kind of writing is what most people think of when they think of what a writer with a capital "W" is and does. But being able to put words together in unique and poetic ways without anything happening that requires an action or reaction on the part of your cast of characters is not storytelling. It is showing off your way with words, gold plating inertia. As Truman Capote said so well "that's not writing, that's typing."
Without an inciting incident nothing meaningful can happen. And when nothing meaningful happens, it's not a story.
The Hollywood Inciting Incident
To put it in Hollywood terms, the inciting incident is the High Concept for every unit of your story, the golden "What if?" It's the intriguing lure to get people to care not only about what you are going to tell them right now, but also what you are going to tell them later. If you are writing a novel and your inciting incidents are ho-hum, you're setting yourself up for a lot of pain. You'll twist and turn inside trying to use language as a crutch to inflate the importance of trivial events.
Instead, why not take the time before you write anything be it a beat, a scene, a sequence, an act, a subplot or the global story, and make sure that your inciting incident is compelling and appropriate for the unit of story you are about to tell. Remember that every unit of story has an inciting incident. So every scene you put in your Story has to have one, no matter its position on the work's progressively complicated hierarchy.
What I learned from Bill Murray
Years ago I had the surreal experience of working with Bill Murray on a book project. One day we were having a cup of coffee. I'd just returned from doing a lot of talking at a sales conference and my voice was shot. Bill laughed and told me I sounded like Mike Ovitz back when he worked with him.
"He spoke very softly so you'd really have to concentrate to make out what he was saying."
I asked what happened to that relationship. Bill no longer works with an agent, he just sort of lets people find him and offer him stuff to work on. If he likes the idea of it – the What if? – he'll do it. If he doesn't, he won't.
Bill explained to me that Ovitz called him one day and told him that he'd met with a studio and pitched an idea to them that they loved. They were willing to write Bill a big check if he signed on to the project. Bill asked Ovitz what the idea was and he simply said "Bill Murray and an Elephant."
While not even close to half-baked, that five-word phrase inspired an inciting incident that Bill found attractive. All they needed now was for someone to bang on a word processor for a few months and they'd be ready to go. Roy Blount Jr., a wonderful writer and author of my favorite sports nonfiction About Three Bricks Shy of a Load was given that impossible task.
Blount took that single phrase and spinned it into the far more fleshed out conceit "a down on his luck motivational speaker finds out that his father has left him a huge inheritance…the twist is that his father was a circus promoter and the son's inheritance is an elephant…"
They did make that movie. It was called Larger than Life and unfortunately, it bombed.
Soon after that experience, Bill decided he could make those kinds of mistakes himself. He didn't need an agent to do it for him. From that point forward Bill decided to only talk to the creators of material directly. If he gets a good feeling about the writer/director and their commitment to the story (and of course what they've put down on actual paper) not just the inciting incident but the whole story, he'll do it. If he doesn't, he won't.
But getting Bill to talk to you is a whole other story. I left a message for him about five years ago and I'm still waiting for him to return the call. So Bill, if you're reading this, could you mail me back that laptop I lent you before you left for Tokyo?
It Comes Back to Genre
Again, global inciting incidents are most often determined by the genre the writer chooses. But what about the great American novels? What were their inciting incidents?
The Great Gatsby—The cousin of a man's long lost love moves next door to him.
Moby Dick—a young man gets a job on a monomaniac's whale ship
Catch-22—fighter pilot can't get grounded for being crazy because he says he's crazy and crazy people don't know they're crazy.
These are examples of global inciting incidents. Like the peanut butter that lures a mouse into a mousetrap, the global inciting incident must be irresistible to the writer's intended audience. And yes, even the big literary writers have an intended audience.
But alas, a fantastic global inciting incident does not make for a slam-dunk commercial success. You must load every beat, scene, sequence, and act with tantalizing inciting incidents to keep the reader turning pages or to keep the viewer in their seat. Creating these kinds of inciting incidents are all about zigging when the reader expects a zag. They require singular imagination. Ideally, the writer fulfills the conventions of a particular genre's obligatory inciting incidents in a completely unique way. A way that the reader never sees coming.
Here's some advice…
Mix up your inciting incidents. Don't make them all causal or all coincidental. When the reader is expecting a causal event, swap in a coincidence and vice versa.
This article is part of the 5 Commandments of Storytelling series:
Download the Math of Storytelling Infographic