Download the Math of Storytelling Infographic
It can happen once in your lifetime, it can happen occasionally, or you can experience it on a daily basis. The All-is-Lost moment is indiscriminate and can happen to anyone at any time. If you are, or have ever experienced it, I assure you that you are not alone.
We are talking about writer's block AKA Resistance AKA the big black hole that you have no idea how you are going to get out of.
My goal in this article is to use some of the tools I have employed as a writing coach to be able help more than just my one-on-one clients. I hope to induce some small actions and/or perspectival changes that could make the process of coming through Resistance a little bit easier.
I'll quote Shawn when he said that Resistance is assistance, because it is alerting you to the thing you most need to concentrate your best and most focused energies on. And if you have that desire to write, then chances are you're a writer. But are you a writer that writes?
A WRITER THAT WRITES
Story Grid is a lot of things. It's a microscope and a telescope. It's a measuring cup and a distillery. But what is doesn't teach us—and I don't think anything can—is how to want to write.
Wanting to write a story is an instinct which doesn't reach out and touch everyone, but it has gripped you since you are reading this article and now it's up to you to follow through.
It's easy, after all, not to be a writer. Most people aren't writers, and very little harm comes to them. —Julian Barnes
The truth of the matter is that it's very likely that no one cares if you write your book except you.
That does not mean to say that when you do get that manuscript out in the world that people won't love it and or that it won't change lives, because it just very well might. The only way to do get it out there in the first place is by forming habits strong enough to complete a draft and multiple rounds of editing on different levels.
HABITS
I read an interesting article written by Flannery O'Connor dating from 1961. The thing that stood out the most was the idea that details accumulate meaning, and it struck me as true. Details do accumulate meaning just as your daily sprints accumulate into a manuscript.
Another idea from that article was the simple statement that most writing programs teach habit more than anything else. I don't know how true that statement holds today, but teaching the importance of habit seems like a valuable skill, the same today as it was 60 years ago.
Do you have any writing rituals in place or do you only wish you did? Do you spend most of your time daydreaming about writing? Then maybe you need to hear that the only way you are going to be happy and fulfilled as a writer is if you do the work.
Maybe your time to sit down and write can be nothing more than a 15-minute interval after everyone is asleep, and you wonder if that amount of time is going to make any difference. I believe that the answer is yes, absolutely. Any amount of time you can spend on your project gets you that much closer, and progress is encouraging when you can see the accumulation of all those small sessions into a cohesive whole.
TIP: Try typing a phrase for 15 minutes and then see how many words you get down and set that as your initial goal. The key seems to be to write fast without thinking and edit later. Nothing needs to be perfect for draft zero; as draft zero is often the author telling themselves the story.
S.O.S. CACHE
Because Resistance is unpredictable, you can prepare for those moments by making yourself a cache of inspirational materials that you know can inspire and motivate you.
Your cache could be a shelf, a box, a drawer, or anyplace you wish. If you don't know where to start, you can try mine on and see if there's anything that fits.
#1 INSTRUCTIONAL OR INSPIRATIONAL BOOKS
As a writer, the first likely item in your cache might be books. Here are a few of my favourite go-to nonfiction books on the craft of writing.
The War of Art by Steven Pressfield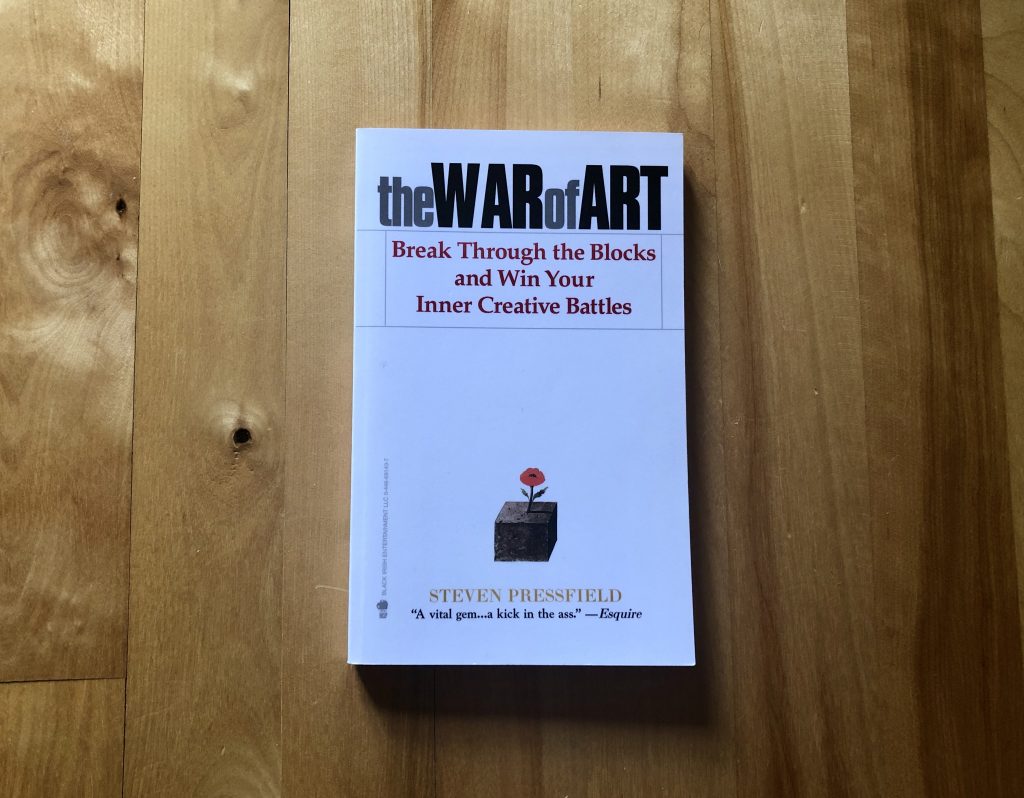 This book boils down to battling one thing—Resistance. One of the things Resistance is really good at doing is making us angry. But we don't always blame Resistance itself, we get mad at ourselves instead. We internalise that. We call ourselves lazy, incapable, or worse: frauds.
Not only is this probably the farthest thing from the truth, it's letting Resistance rub its slimy hands together with glee for having succeeded in deluding you. Your self-image, your work ethic, and your talents, are at stake. That can't be allowed to happen anymore. 
The Scene Book: A Primer for the Fiction Writer by Sandra Scofield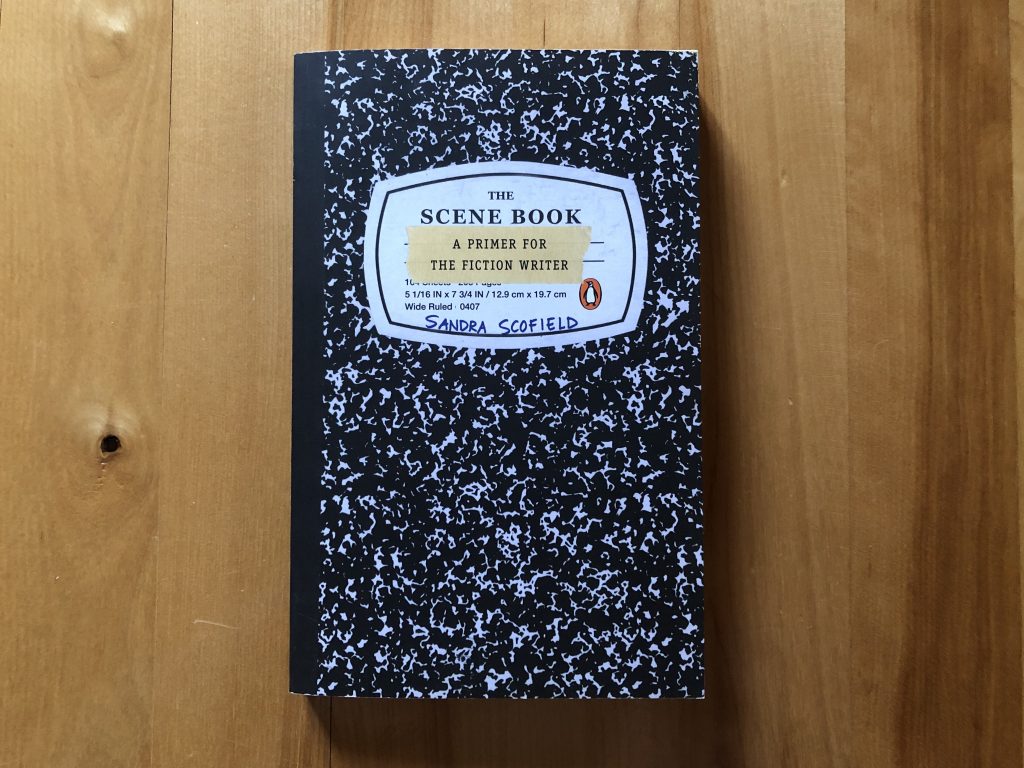 There are many ways different instructors might teach the same subject, and I like to read widely so that I have a cache of helpful titles to hand out as needed.
This primer takes a little bit of a different approach than Story Grid methodology, but it's packed full of great examples of scenes and exercises, and when followed up with Story Grid's complexity, it makes for a well-rounded base of knowledge.
Story Grid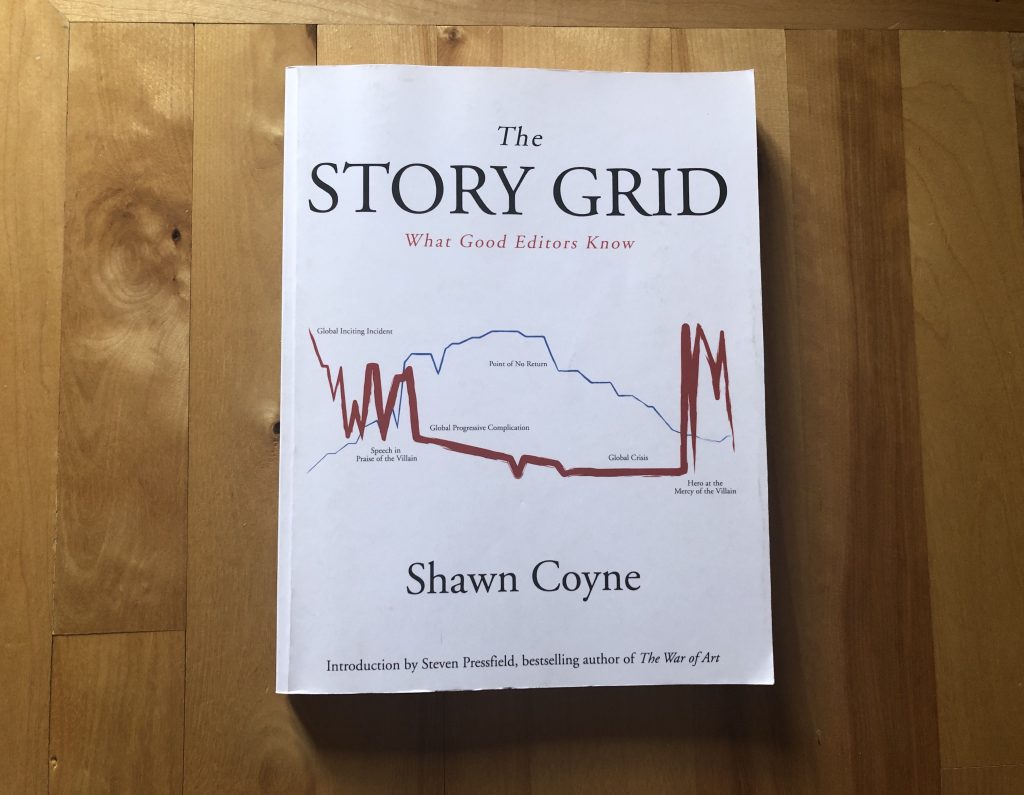 Of course The Story Grid is on my list! The book is a must-have and the website is a treasure trove of hours and hours of free instruction that is sure to stir something up from your writerly self. 
The Artist's Way by Julia Cameron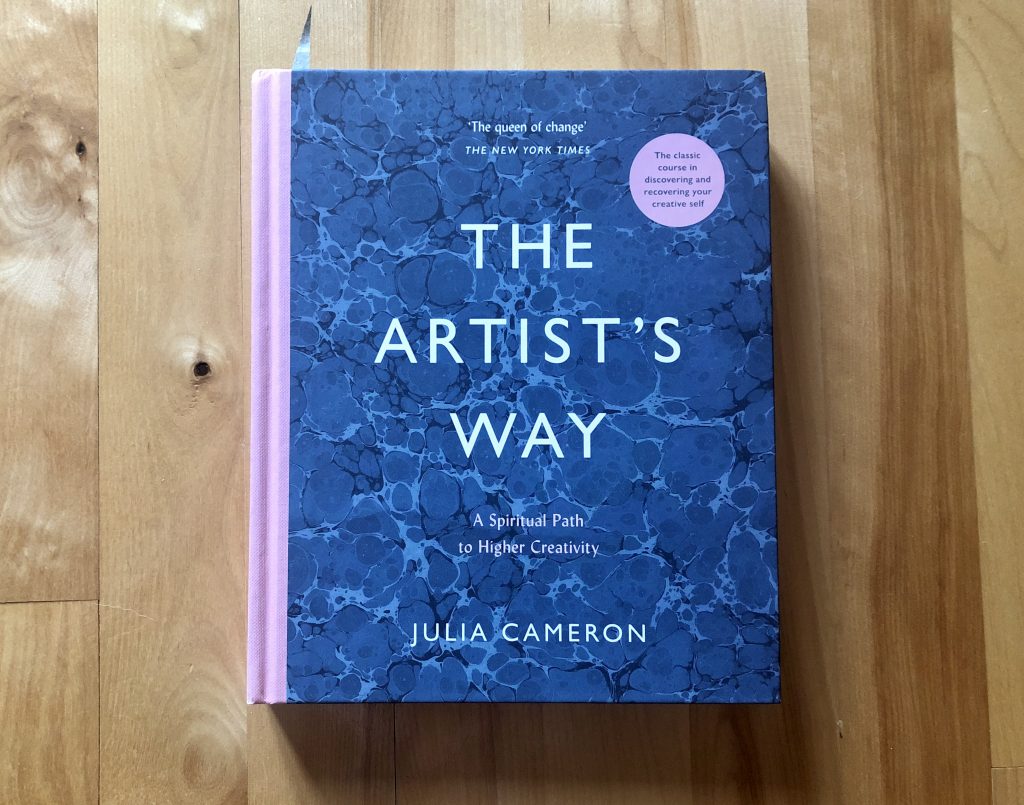 The Artist's Way takes on a 12-week course format with the goal to form an everyday, three-page writing habit alongside a day set aside to do something inspiring to fill your well of creativity. 2016 marked this book's 25th Anniversary, meaning that creatives have been using it for personal growth and inspiration for at least a quarter century.
I sincerely recommend this book and this method and say only to take what you need and leave the rest. If you can only do one page in the morning, do one. If you must do seven, do seven. I love the idea but feel that sometimes it's not sustainable for everyone. Micro-journaling could be an easy alternative on days where time does not permit a full three morning pages.
Novel Shortcuts by Laura Whitcomb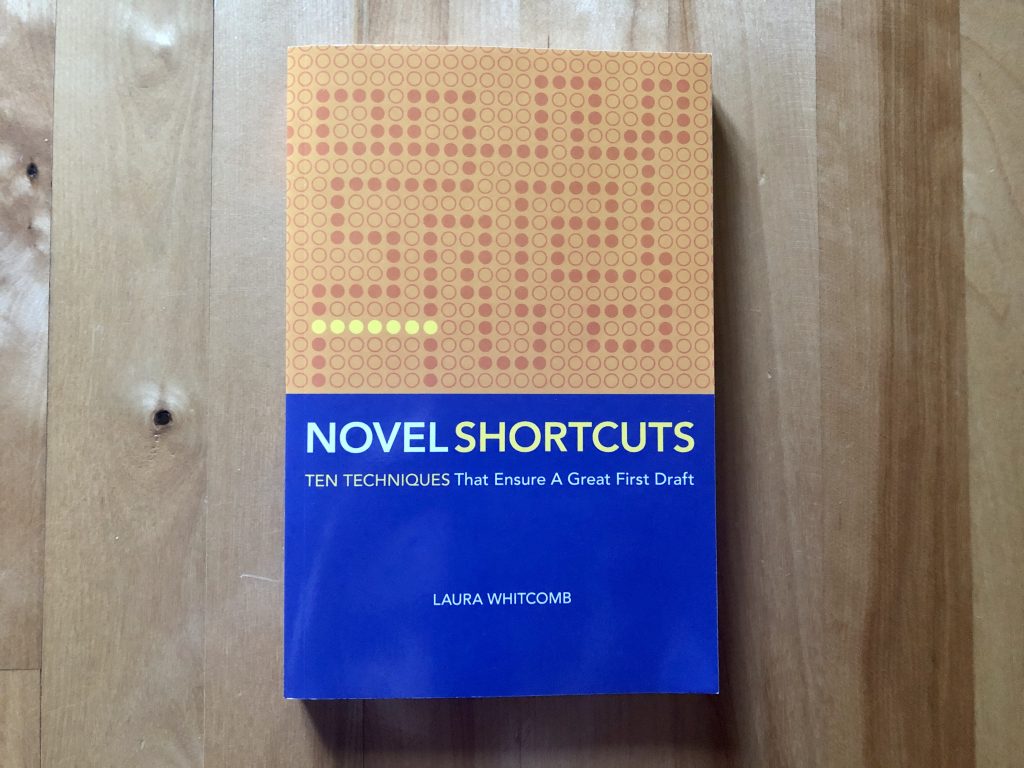 This book has nestled its way into my favourites because of its clarity and helpful exercises. I frequently recommend this one to clients either as a primer or as a tool to get out of blocks.
One of said exercises is to write the jacket copy for your book to use as a beacon to help to guide you on your way. Knowing what you want your novel to be and seeing what is on the page can aid with troubleshooting.
Big Magic: Creative Living Beyond Fear by Elizabeth Gilbert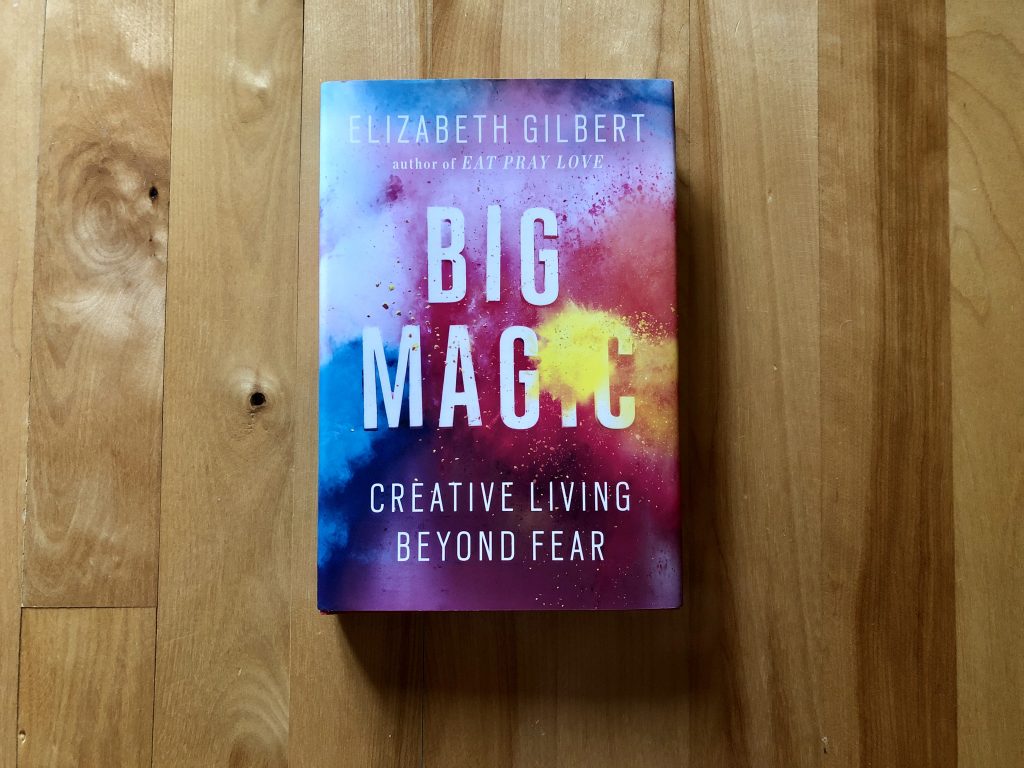 This book is as the title describes: a tool to shed your creative fears. The table of contents includes sections on Courage, Enchantment, Permission, Persistence, Trust, and Divinity. 
"Creativity is a crushing chore and a glorious mystery. The work wants to be made, and it wants to be made through you." —Elizabeth Gilbert
The Three Wells of Screenwriting by Matthew Kalil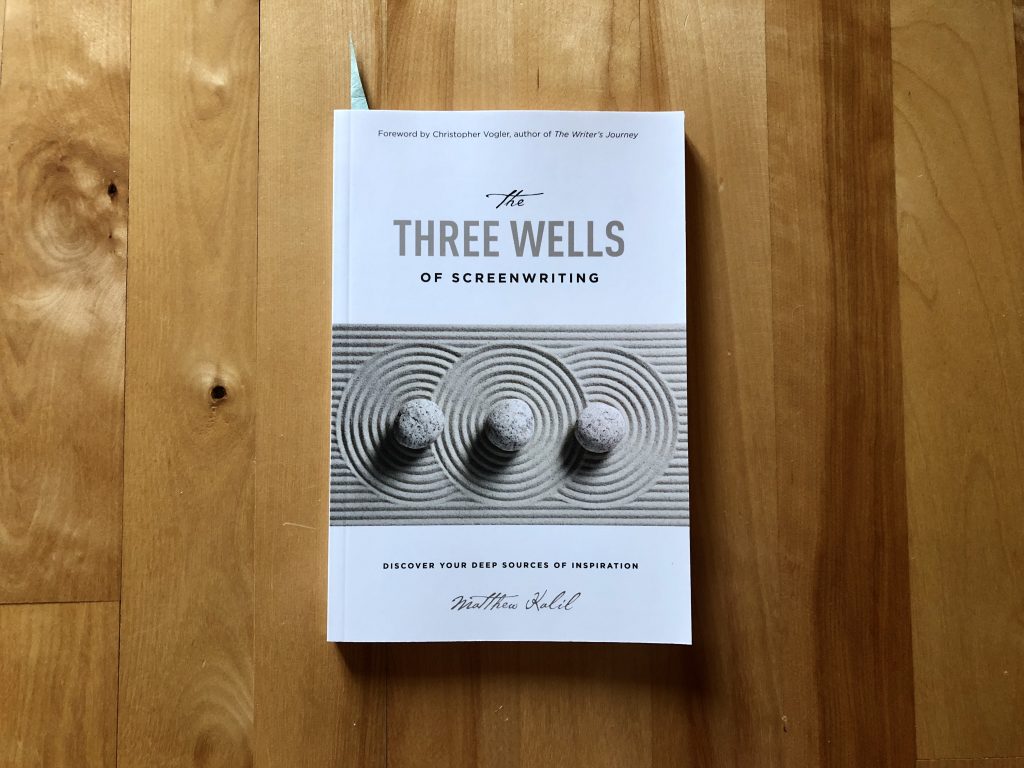 Though outside my discipline, this read changed my life. One concept details that some scenes are stereotypical, and when we go to write our own scene, our brains supply us with what we already know instead of innovating.
The example given is a graveyard scene. Mourners with hankies, veils, a priest, a family member throws dirt on the grave, perhaps someone standing off in the distance observing. You can see all these things in your head. These things all ring true, and so have earned their place in the tradition of that scene. The Three Wells of Screenwriting suggests to go beyond the first idea for a certain scene, to go deeper and into that innovation zone. This alone has helped me immeasurably in working with my clients and in my own writing.
For more suggestions of writing books from Story Grid Editors Anne Hawley, Kimberly Kessler, Leslie Watts, and Valerie Francis, see this article.
#2 YOUR OWN PERSONAL MASTERWORKS
The books I suggest for your shelf may or may not be masterworks according to anyone else but you. They are the books that you wish that you could have written yourself. Books that contain your fondest memories, lovely illustrations, and favourite characters. Books where you admire the opening sentence, ending sentence, or one right in the middle. Books that dazzle you. Books that you love everything about, right down to the dust jacket.
These books should be in your cache so that you can refer to them those times you forget why you started writing in the first place. Two of my favourites are The Dead by James Joyce and The Yellow Wallpaper by Charlotte Perkins Gilman.
#3 SYMBOLIC ITEMS
Trinkets, memories, photos. Write your favourite quotes on post-its or in a scrapbook. Collage mood boards for scenes in your novel and get creative.
Do you have favourite authors or people that you look up to, a set of writerly gurus? Did someone say something that inspired you and you can't bear to lose it in the ether of your mind?
This one is personal and a little bit embarrassing. It comes from my having taken the Neil Gaiman Masterclass online. This was my takeaway.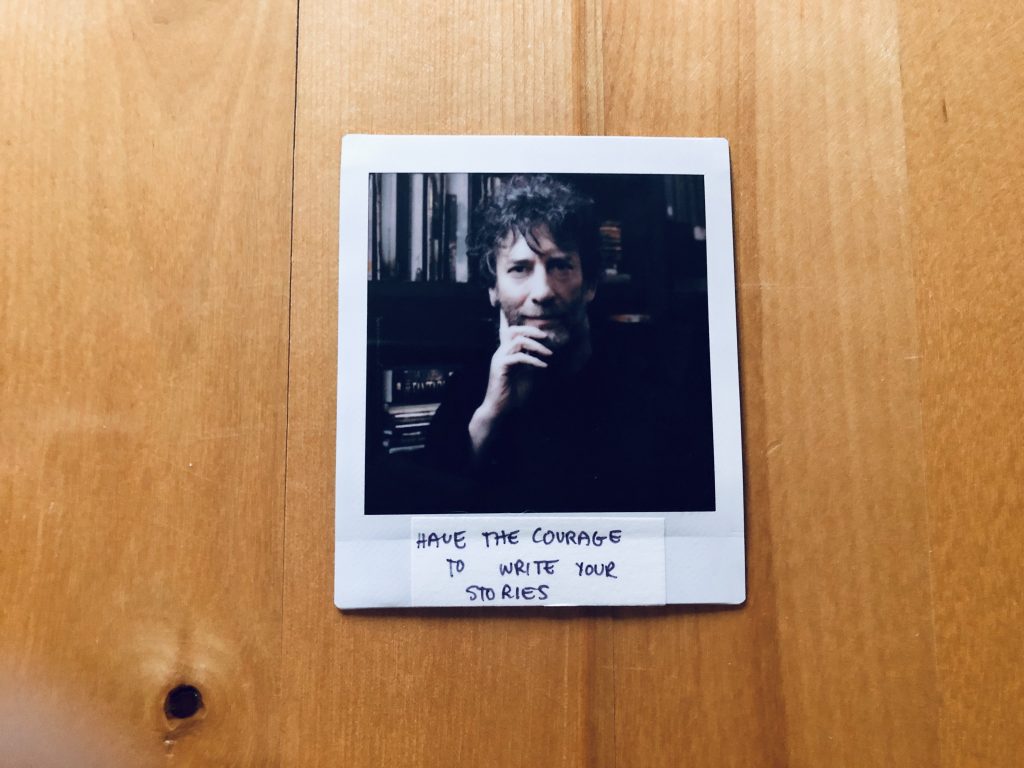 I appreciated his gentle instruction and his permission and found a good photo online and I printed it to remind me. It's easy to forget things like this when in the pit. 
You can also write your novel to a specific person. If you do have a guru or a mentor, a bestie or a colleague. This little shift might make the idea of sharing your blood, sweat, and tears with the world more tolerable.
#4 GET INSPIRED BY RESEARCH
You might feel like doing research is not really writing, and while that might technically be true, it is a necessary task in many cases and it can fill the well so that you can draw out buckets of inspiration.
SCENEWORK AND SPECIFICITY
Analyzing scenes is a tool I recommend as a springboard. Choose one of the masterworks from your S.O.S. shelf and analyse your favourite scene or a scene similar to the one you are blocked on. Discovering the 5 commandments in a scene can help you construct compelling scenes.
When you come to your own writing and complete a scene, you might write your five commandments out and make comparisons. This is good practice and will increase your ability to switch between your creative and your technical side.
See this section of the Story Grid website for some great instruction on how to discern the 5 commandments of storytelling.
Tip: Write the first and last scenes so you have an idea where to start and to where you have to go. These scenes may or may not end up in the final work but they will inform what needs to happen to get your story from beginning to end.
Tip: Build a scene list and clearly delineate where your obligatory scenes and conventions for the genre might fall. 
DIGITAL ASSISTANCE (BUT ALSO BEWARE)
Plenty of prompts can be found online on different platforms. Pinterest boards can be a fun way to save your favourite quotes, prompts ,and lovely book covers, but beware falling into the internet. If you repeatedly catch yourself randomly falling into the internet when you're supposed to be writing, go analog during those times you designate for writing.
So many people have the habit of writing straight on the computer that suggesting it be done by hand can earn you quite the sidelong glance, if not an actual smirk, but it is what I recommend to those facing the worst depletion.
It can mean having a computer desk and an analog desk.
#5 COACHING & COMMUNITY
Editors are an incredible bunch of people and their skills are as varied as they are awe-inspiring. Nearly every single one that I have met has been generous beyond reckoning. Despite this fact, there is one thing that an Editor should not have to do for you, which is to get you to want to write.
Many but not all developmental editors offer coaching packages. Working with a fellow editor has helped me immensely. Even as an editor myself, I feel ill-equipped to tackle my own snarl of a novel.
Talking to someone about the issues we come across is invaluable and sometimes the answers are so simple that we don't see them. Those moments where you slap your forehead for it being so obvious.
If you have a trusty friend that loves the type of book you're reading, ask them if you can tell them your story from start to finish. Maybe record that so you can refer to it later.
SOME OF MY LIFESAVERS
Scrivener, particularly the Composition mode, which allows for greater focus, but also the fact that I can organise in the binder, I can have two windows side by side, and that I can have index cards.
Having the right space. Sometimes we don't realize our space is not comfortable until we try something else. Build the perfect space, whatever that means for you.
Stop your daily writing sprint mid-sentence so that the next session you only have to complete your sentence to get started and your work will flow from there.
Forgiving myself for not doing the work if I have a bad day, week, month, year. Allow yourself some freedom. It is so easy to forget to give yourself a day off. Let yourself play. Go judge a book by its cover, then see if you're right.
Self-analysis and learning to get yourself over the humps.
Music, silence, or soothing sounds? Try mynoise.net for various soundscapes. I love the rain one, but they also have beaches, forests, space sounds, etc.
Having representations on my desk to remind me why I write and what's at stake if I don't. Literally—no one cares if I don't write my story except me.
FINAL WORD
In the end, you are the master of your own actions and you can decide what works best for you. I wrote this article because I don't want the world to be deprived of your glorious stories, so please, go and do the work!
::
If you're looking to read about the All-is-Lost moment in a piece of fiction, see this excellent article by Story Grid Editor Julia Blair.
::
SOURCES
O'Connor, Flannery. "Writing Short Stories." The Art of the Short Story, ed. Wendy Martin, pp 1555-1563, Houghton Mifflin, 2006, U.S.A.
Download the Math of Storytelling Infographic
---
Share this Article:
🟢 Twitter — 🔵 Facebook — 🔴 Pinterest
GET 100% OFF A STORY GRID BOOK OF YOUR CHOICE
GET 100% OFF A STORY GRID BOOK OF YOUR CHOICE
Sign up below and we'll immediately send you a coupon code to get any Story Grid title - print, ebook or audiobook - for free.
(Browse all the Story Grid titles)