Download the Publishing Asset Checklist
In January 2020, Shawn Coyne and I launched Story Grid Publishing. The division of labor between the two of us has been this: Shawn gets the manuscript "locked" — ready to publish — and I take it all the way to on sale. This article will take you through our entire process on how to start a publishing company.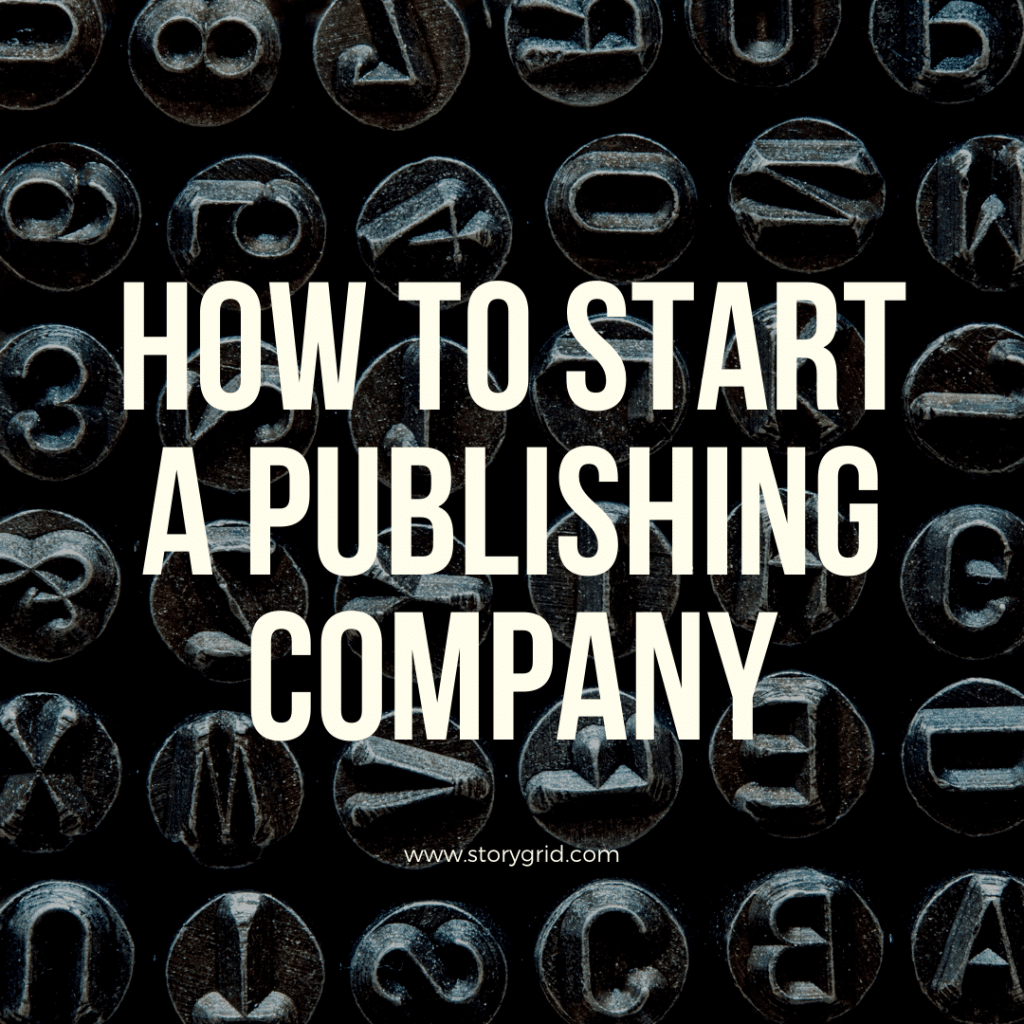 The Team
To have a stable publishing house, we need people in charge of each aspect of the process. Here is our team:
Cover Designer – Creates the aesthetic designs for each of the covers. For our non-fiction titles, we have the branding/design already set, so we don't need these individually designed. For our fiction works, we work closely with a cover designer to create a unique, custom design.
Cover Creator – Takes the aesthetic design and creates the individual covers we need for all of the outlets. We have to develop different covers for ebook, KDP Print, Ingram Print, our printing house, and a 3D cover for promotion.
Interior Designer – We only have the interior custom-designed for our fiction works. For non-fiction, we use the print file from Vellum.
Copy Editor – Fixes all of the grammar/spelling mistakes once the manuscript has been line edited by the developmental editor and author.
Copy Writer – Creates the marketing copy for the cover and sales outlets.
Ebook Converter – Converts the manuscript to MOBI, EPUB, and PDF. We currently use Vellum for this.
Audiobook Producer – Manages all of the recording and production of the audiobooks.
Project Manager – That's me right now. I also take care of uploading all of the books to all of the sales outlets.
Step 1: Assign ISBNs
Before we even launched SGP, Shawn bought a hundred ISBNs at MyIdentifiers.com. The first thing we do with each book is login and assign an ISBN to the book.
You have to assign 3 ISBNs:
Paperback (or hardback)
Ebook
Library
Once the ISBNs are assigned, I copy and paste them into a Google Doc, so I have them all in one place.
Step 2: Setup the Folder on Dropbox
The next step in how to start a publishing company is figuring out your organization strategy.
Awhile back, I was working with another publisher, and we needed to make a change to a book that had been out for a while. We need to tweak something on the cover and change the interior of the ebook.
Unfortunately, the person that has worked for the publisher on the book no longer worked for them, and we had no contact with the cover designer or the ebook conversion contractor. We also didn't have the original InDesign files for the cover or the original ebook files.
We reached out to the cover designer a few times and never heard back.
We ended up having to pay a cover designer to recreate the same cover to make our changes and had to pay someone to copy/paste the old ebook into the new ebook software and then make our changes.
I vowed this would never happen with Story Grid Publishing.
For every new book project, I create a new folder in Dropbox. Inside the folder, I create these subfolders:
Audiobook
Covers
Ebook
Images
Misc
Print Files
I give access to the entire team (above) along with the author to the book specific dropbox folder. No one is allowed to send files as email attachments. They have to upload them to Dropbox and then send a link in an email. If someone emails out an attachment, I reply and ask them to upload it to Dropbox then send a link.
At the end of every book project, I go through and make sure every file, including original production files, are in Dropbox. The goal is, ten years from now, if everybody on the original project has dropped dead, whoever is running SGP will have access to all the files they need to make updates and changes to books.
Dropbox Tip: You can create Google Docs directly in Dropbox folders. This allows you to have Docs, Sheets, etc. that are collaborative but live in Dropbox instead of Google Drive. I use this for the Marketing Copy, among other things.
Step 3: Start Creating and Gathering Assets
I learned the hard way to get all of the assets gathered before I began uploading the books to the various sales outlets. It's no fun to go back through all of the sales outlets 2 and 3 times updating things.
Here's what I am putting together:
Author bio(s).
Author headshot(s).
All of the cover images.
All of the ebook files (MOBI, EPUB, PDF).
Marketing copy.
Final audiobook files (if we are doing an audiobook).
I don't start putting the book for sale anywhere until I have all of these things ready to go and stored in Dropbox.
Step 4: Create Pages on the Website
There are up to three pages I create on the storygrid.com website:
Product Page – These are where people can purchase a copy of the book directly on our website.
Media Kit – I put everything here that the author/editor may need to promote the book. Cover images, author headshot(s), author bio(s), marketing copy, blurbs/testimonials.
Resources Page – Many of our books have downloadable resources — SG Spreadsheet, SG Infographic, SG Foolscap, etc. — that readers can access. We put these links in the manuscript, so I have to create the page for them to reference.
I will often get these pages up before I have all of the assets in Step 3 because they are easy to edit. Also, we need the URLs set early so we can put them in the manuscript.
Step 5: Submit the Files to Our Book Printer
We currently print copies of our books. We use print-on-demand through KDP and Ingram for sales in other outlets, but fulfill books for our Guild members and storygrid.com online sales ourselves.
Side Note: How We Do This Part
Printing, warehousing, and fulfillment are hard and expensive for books. You have to print books ahead of time that you hope to sell, then warehouse them somewhere, and then have someone pick, pack, and ship any orders that come in. It's been a challenge to figure it out, but we've landed on an working system.
Printing
We are currently using Maple Press and KDP for printing. For some books, it's cheaper to just order author copies directly through KDP. Other books it's cheaper to go through Maple Press. They work primarily with short-run printing (less than 10,000 copies), and we've been happy with their quality.
Warehousing, Picking, Packing, Shipping
This is a tough one.
We need a place to store books. Also, when orders come in, we need to be able to pick, pack, and ship them out.
Most of the available solutions are built for companies with much higher volume than us, and quickly become prohibitively expensive. I tried a couple different solutions with another publishing company I work with, but there never seemed to be a good fit.
These are common problems:
Too expensive. Most warehouses charge a minimum storage fee that is very high. They also charge per-package for fulfilling orders. If you want to do any kind of cross promotions, they charge additional fees.
Hard to manage. You have to submit orders electronically, and there can be errors. If something goes wrong, you have to deal with a service rep that is managing dozens of other accounts.
No flexibility or customization. If want to drop a postcard in each order and write some thank you notes or change which shipping options we want to offer, it's very hard to make these changes.
Shawn and I were talking through these problems when he said, "You know, it would be great if we just had one person that would do this out of their garage. Someone that we know would do a great job because they are so detailed oriented and actually cared."
I had just talked to my mom a couple days before and she had told me about waiting on hold with American Express for an hour and talking to two different people to get them to fix a $2 mistake on her account.
"My mom will do it," I said.
She has been retired for several years and was looking to make some extra money, so we hired her to be our warehouse and fulfillment center. 
I spent a month building out the software and systems to connect our online store to shipping software that would allow her to print labels, manage shipments, etc. I then ran the system myself for two months to work out the kinks, then I loaded all our books into a U-Haul and drove to my parent's house. I dropped the books in her garage, showed her how to use the software, then drove home.
At our current scale, it's a perfect solution. It gives us massive control over the process while saving money. If we want to run a promotion or do something custom, she just rolls with it. She also regularly writes notes to our customers and personally handles any issues that arise.
I couldn't be happier with how this has worked out.
Step 6: Put the Books on Sale
Once I have all of the assets, I start putting the books up for sale on the various outlets.
This is the most mind-numbing part of the entire process. There is no fast way to do this. Each of the outlets has its way of doing the procedure. It's a ton of copy-and-pasting and uploading the same files over and over.
Here are the outlets we currently use:
KDP – Digital
KDP – Print
Ingram – Digital
Ingram – Print
Apple Books
Google Play
Kobo
Findaway (audiobook distribution)
Tip: I highly recommend Kindlepreneur's Publisher Rocket. It's an amazing software for choosing the right Amazon keywords and categories.
Step 7: Fulfillment by Amazon (Hardcover Specific)
Our next title, The Sand Sea, is our first hardcover release. As you may or may not know, KDP does not offer hardcover print-on-demand. Ingram does offer it, but it is prohibitively expensive — over twice the cost of printing them ourselves.
This has forced me to wade into Amazon Seller Central — The Amazon service that allows anyone to sell products.
This means printing books then sending them to Amazon fulfillment centers to offer pre-orders and Prime shipping.
I'll update this section of the article in the future as I learn more about it, but it's quite the chore getting it set up correctly. My advice at this point is to 1) avoid it if you can then 2) start getting this set up as early as possible because it is confusing and time-consuming.
How to Start a Publishing Company
If you're self-publishing one or two books, it's pretty straight-forward to get everything going. However, if you need to publish multiple books a month, there has to be a system that tracks everything and keeps it all moving. This involves having a strong team, documented processes, and following each book through the system.
If you would like to download the Asset Checklist I'm using for every book in our system to ensure everything is getting done along with the software and tools we are using, click below:
Download the Publishing Asset Checklist
---
Share this Article:
🟢 Twitter — 🔵 Facebook — 🔴 Pinterest
GET 100% OFF A STORY GRID BOOK OF YOUR CHOICE
GET 100% OFF A STORY GRID BOOK OF YOUR CHOICE
Sign up below and we'll immediately send you a coupon code to get any Story Grid title - print, ebook or audiobook - for free.
(Browse all the Story Grid titles)