Download the Math of Storytelling Infographic
Most stories start with only a part of an idea… a writer might meet someone that inspires the creation of a hero or a villain. Or, the writer might have a dream that compels them to write about a particular topic or experience. Sometimes writers have a favorite genre and can't imagine writing anything else. But how do you uncover the theme of a story?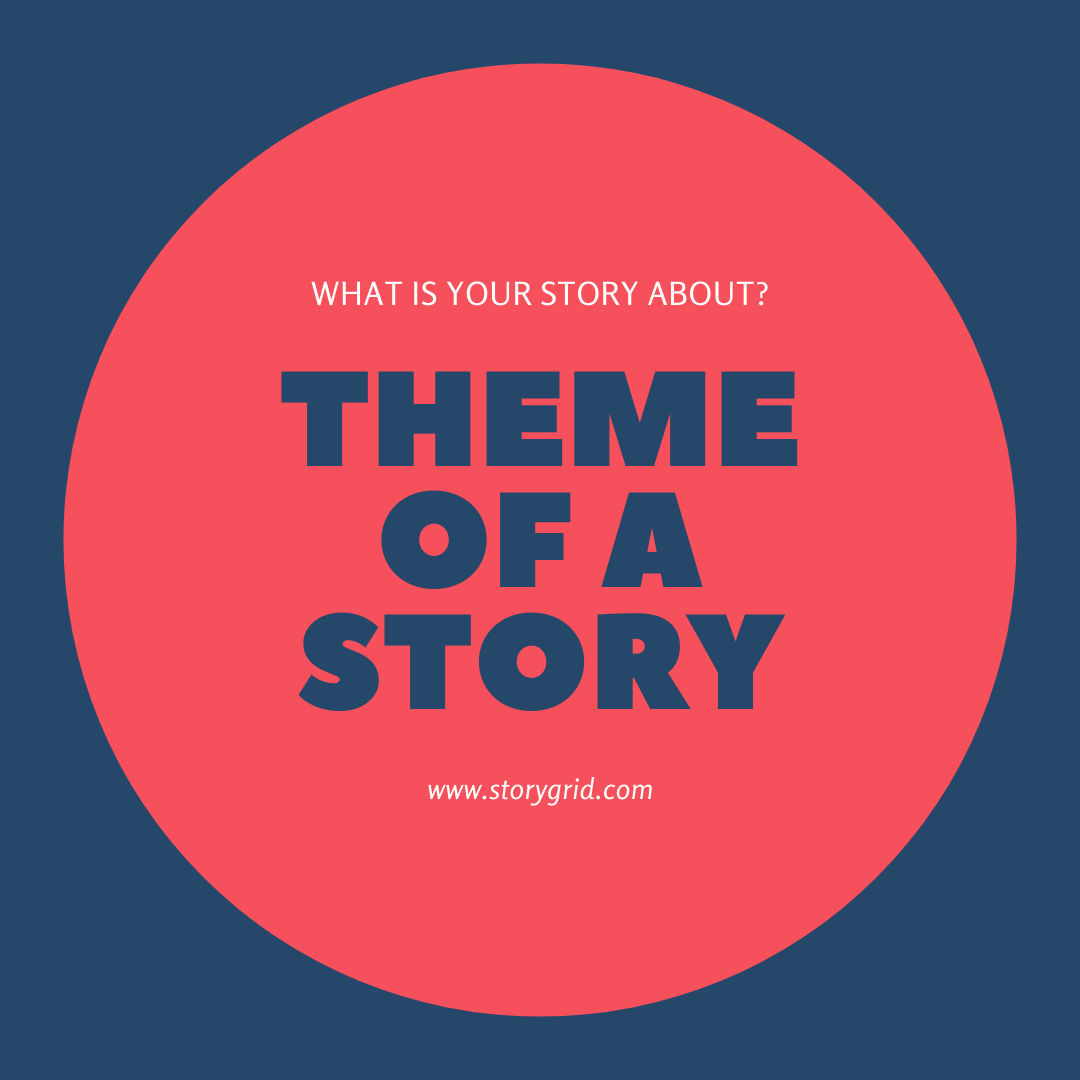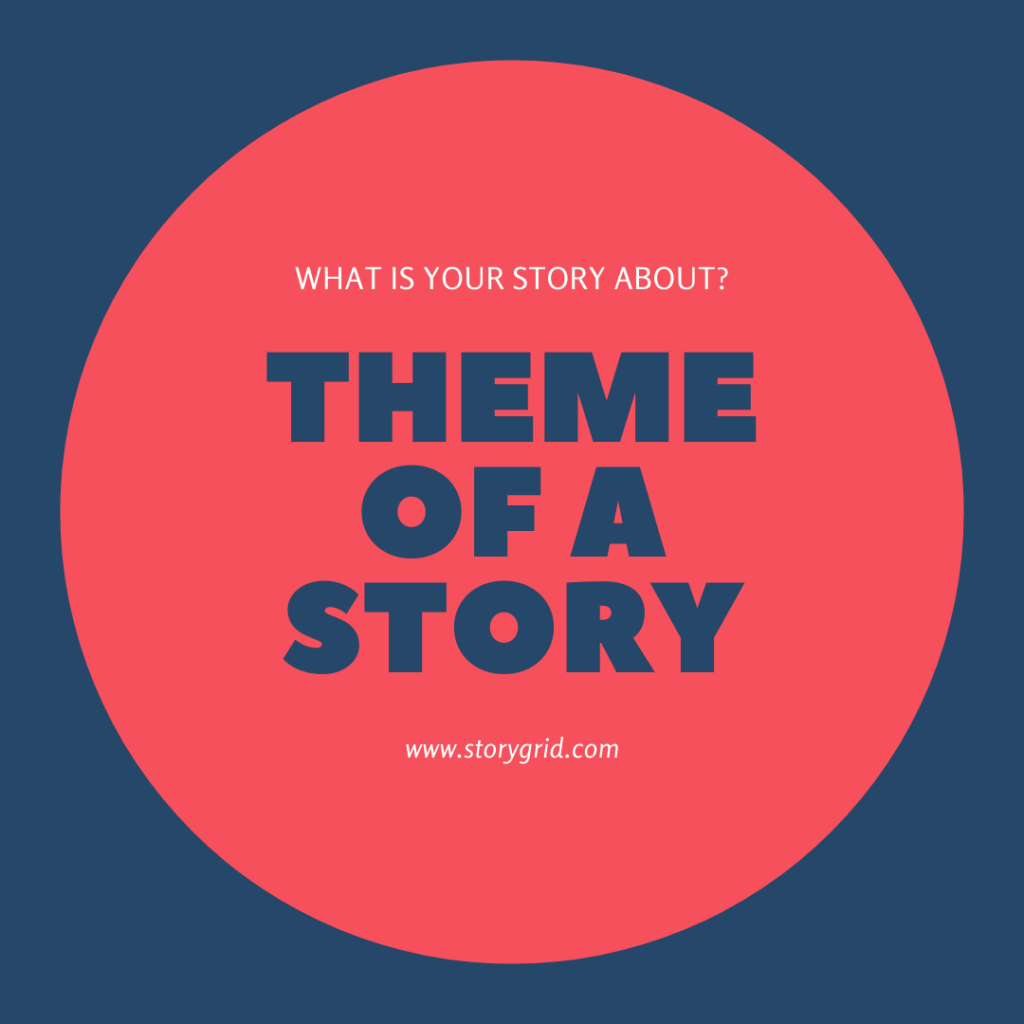 What is the Definition of Theme?
According to The Story Grid by Shawn Coyne, the definition of theme is:
"the takeaway message the writer wants the reader/viewer to discover from reading or watching his Story. It's the whole reason many of us want to be writers in the first place."
The ways we get our ideas are endless and it varies from story to story. But no matter how you come up with your ideas, or what piece of an idea you might already have, chances are that you already know what you want to say about a certain topic like life, or love, or friendship, or death…
This topic that you choose to explore through your writing can inspire your story's theme. And may even show up again, and again, and again as you write different stories.
Sometimes talking about theme can feel a little scary. We tend to put all this pressure on ourselves to figure it out in the "right way" at the "right time." But let me tell you a secret.
There is no right way or right time to come up with the theme of your story
In this post, I'm going to show you three different ways to come up with the theme of your story that (hopefully) makes theme feel less scary.
But first, let's talk about what theme is…
---
What is the theme of a story?
In The Story Grid: What Good Editors Know, Shawn uses the words "theme" and "controlling idea" interchangeably. But for the purpose of this article, I'm going to use the word "theme."
So, what exactly is theme?
Theme is the overall message that you want readers to take away from your story. It's an expression of how you feel about a certain topic like life, love, death, friendship, identity, self-confidence, etc.
Sometimes writers need to finish a first draft before they fully understand what it is they are trying to say about a particular topic. Other times, writers already know what kind of message they want to share with the world before they sit down to write.
Again, there's no right answer.
No matter how you come to figure out you story's theme, the important thing is that you have one. Because if you don't know what you're trying to say with your story, then nobody (including the reader) will either. And that means your story probably won't work or feel satisfying.
So, now let's dive into my three favorite methods to help you uncover the theme of your story…
---
3 Ways to Uncover the Theme of a Story
1. Determine your global genre.
Each genre has its own controlling idea or theme. If you already know the genre you're writing in, then you can get a general sense of the "topic" or theme that your story will explore. So, for example:
If you've been a part of the Story Grid universe for a while, you might already know that each genre has both a positive and negative expression of a theme. Each link above will take you to an in-depth article about each genre that includes both expressions of the genre's theme.
So, let's say that you already know that you want to write a murder mystery. What do you have to say about justice? Or murder? In your story, does justice prevail? If so, how and why? What does justice mean to you?
Or maybe you're writing a romance… What do you have to say about love or human connection? In your story, does love conquer all? If so, how and why? What does love mean to you?
Or, if you're writing a worldview story, what do you have to say about moving from one life stage to another? What does maturing mean to you? What does it mean to gain wisdom or experience? Why do you care about this topic?
Hopefully, this exercise worked for you, but what if it didn't? What do you do if you don't know your genre? Or what if the idea you have could fit into multiple genres? Or what if you don't even have a fully formed story idea yet?
Not to worry! I have two more exercises that can help you uncover the theme of your story…
---
2. Figure out what you have to say about life.
Many people feel compelled to write because they have something to say about life or human nature. They want to express their unique take on the world, and hope that others will see the world the same way they do.
So, when working with my private coaching clients, some of the first questions I ask are about the writer's motivation. I ask things like…
What kind of change would you like to see in the world? Why?
What's a general question you're always asking or wondering about life?
What issues do you constantly think about? Which issues get under your skin? (Political issues, murder, animal abuse, relationship issues, disease, war, alcoholism, inequality, lying, infidelity, etc.)
What virtues do you personally value? What virtues do you think are undervalued? Why?
What vices scare you? What vices do you dislike in yourself or others? Why?
Your answers to these questions will probably hold the key to your story's theme.
But, if not, don't worry—there's still one more exercise to try…
---
3. Think about how your character changes.
The way your character changes throughout the story is often directly related to the message you want to send to your readers. So, you can ask yourself these questions about your main character:
Who is my character at the beginning of the story?
How do the events of my story shape my character for the better or the worse?
What holds them back from happiness or fulfillment? Flaws? Fears? Outdated beliefs about themselves or the world?
Do they overcome their flaws, fears, or outdated beliefs by the end of the story? If so, how?
What does my character gain and/or lose by the end of the story?
Who has my character become by the end of the story?
Then, once you've answered these questions, see if you can identify any themes that naturally arise. If you need some inspiration, check out some of these universal themes (or lessons)…

Universal Themes of a Story:
Forgiveness (of self or others)
Love (self-love, family love, romantic love)
Acceptance (of self, of circumstances, of reality)
Faith (in oneself, in others, in the world, in God)
Fear (overcoming it, conquering it, finding courage)
Trust (in oneself, in others, in the unknown)
Survival (including the will to live)
Selflessness (including selflessness, altruism, heroism, and overcoming greed)
Responsibility (including duty, standing up for a cause, accepting one's destiny)
Redemption (including atonement, accepting blame, remorse, and salvation)
If you're able to identify any of these themes in your character's arc, try to dig deeper to figure out what you're trying to say about that particular topic. What does it mean to you? What do you wish you could say or prove to the world about that topic?
Now, I want to look at an example of how answering some of these questions can help you uncover the theme of your story…
---
Uncovering the Theme of a Story: An Example
Let's pretend I'm working with a writer named Jane who has a few ideas for some scenes and knows (in general) who her main character is.
I would ask her, "Jane, why do you want to write this story about this character? What does this story mean to you?"
And say Jane said something like this…
"I want to write this story because I want to show that getting close to someone doesn't always equal pain. Ever since my best friend passed away, I've avoided getting close to people because I don't want to feel that pain of losing someone again. But in doing this, I've missed out on having relationships with some really great people and I'm starting to feel lonely. I'm starting to wonder if keeping myself closed off from others isn't the right way to live. I don't want others to make the same mistake I made. So, Chloe, my main character has pretty much the same problem…"
Now, I think that's a great answer!
If Jane were writing a romance novel, can you imagine what the theme of her story could look like? Maybe something like, "Love wins when you let go of your fears and allow for life's uncertainties?" Can you also start to get an idea of the character's arc in this story? For example, maybe her protagonist starts the story afraid of getting close to people because she fears being hurt again. But then, by the end, she's able to let love in her life despite the risk of pain.
If Jane were writing a mystery novel, you could imagine the theme to be something like, "Justice prevails when you learn to trust others." In this version of her story, the protagonist could start off being someone who doesn't trust others because they are afraid of getting hurt. But, in order to solve the mystery, he or she needs to work with, and trust, someone else. So, by the end of the story, the protagonist might have transformed into someone who not only trusts others, but perhaps has a new partner or friend.
Can you imagine how Jane's answer might translate to the other genres as well? It's a pretty fun thing to play with!
---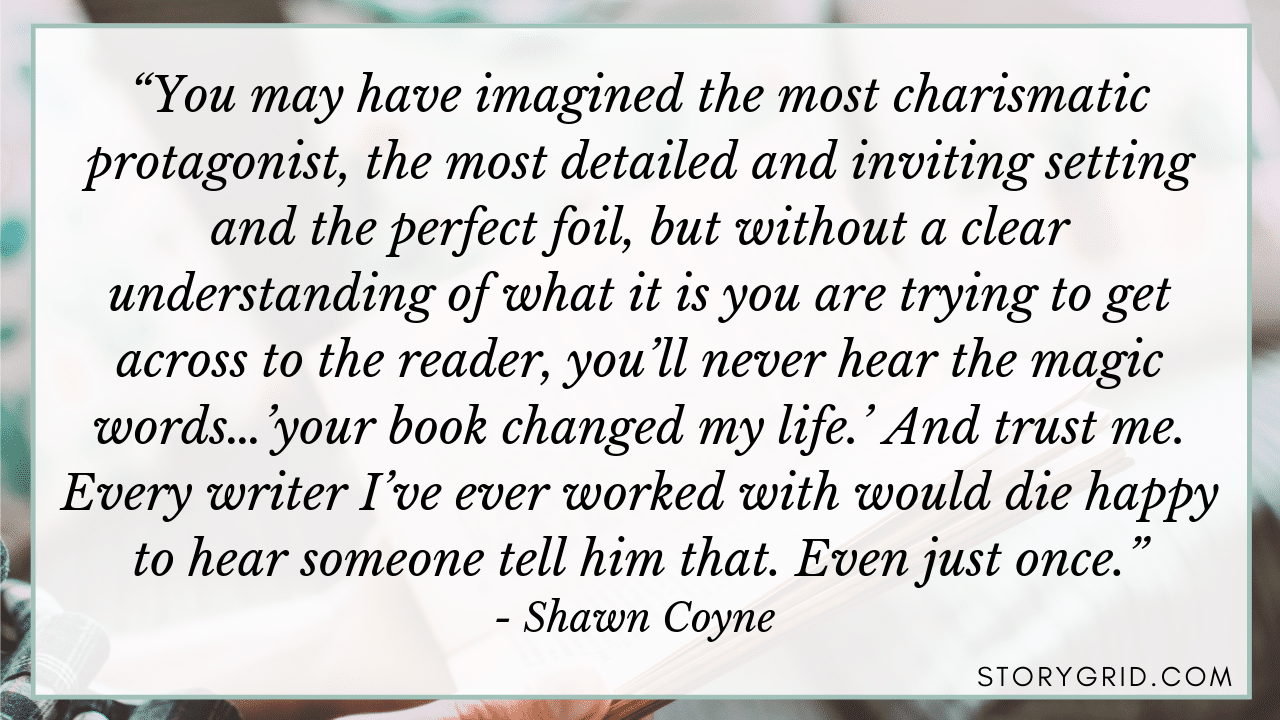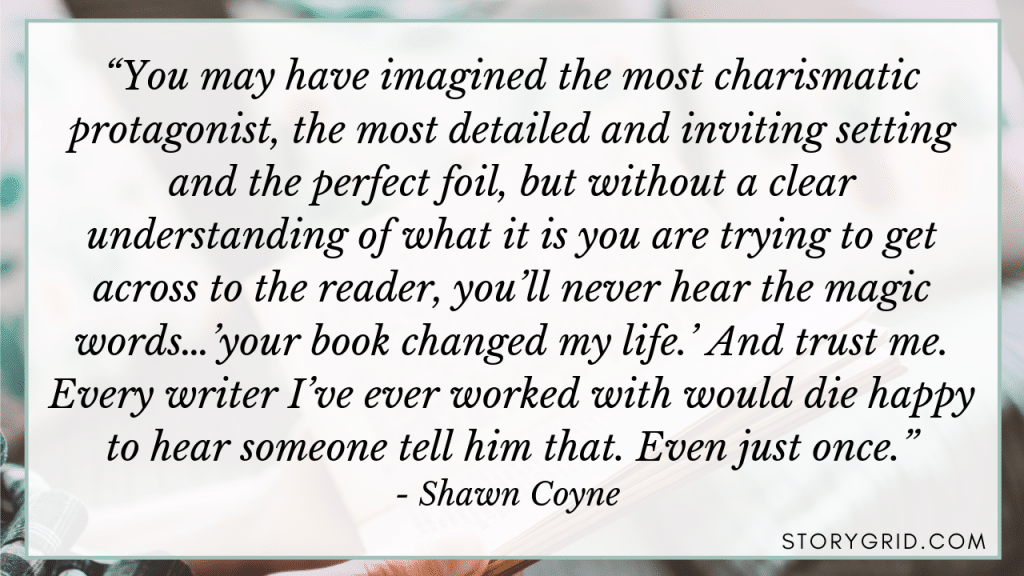 ---
Final Thoughts
So, what if you've gone through this post and come up with a theme for your story that sounds generic or cliché? Should you keep going until you figure out something that's totally unique?
Here's a secret… the theme of a story doesn't have to be original.
How many books have you read that could be boiled down to "good vs. evil" or "love conquers all?" Not being able to find your theme is pretty normal. You could write about either of those themes for hundreds of years and never run out of unique perspectives.
Readers don't get tired of these universal themes. They get tired of the same themes being expressed in the same way, in the same genre, with the same plot and characters and the way they're all combined.
So, don't worry if what you've come up with sounds generic or cliché. That's almost always the case in the beginning. Your theme will change and evolve as you get to know your story better!
---
Now, I'd love to hear from you in the comments...
How do you approach the theme of a story in your writing? Do you start with a theme in mind? Or do you write the first draft and then identify your theme at the end?
---
Download the Math of Storytelling Infographic