Download the Math of Storytelling Infographic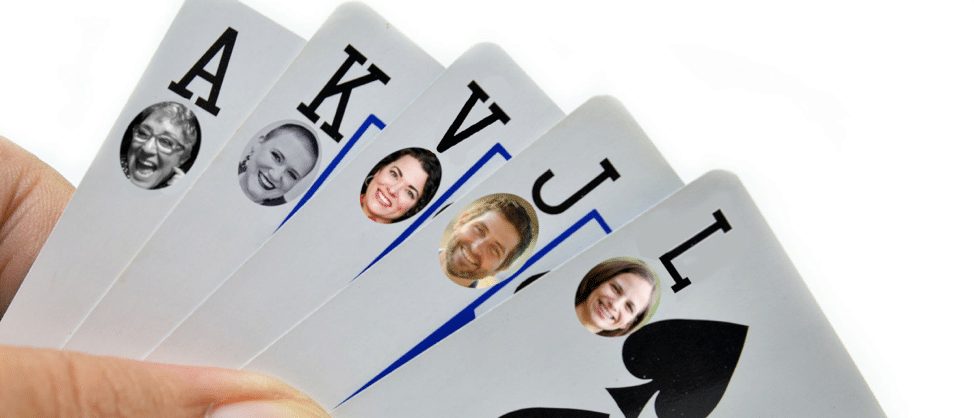 Here's a preview of the winning hand of stories the Roundtablers are getting ready to bring you in Season 4. Join us for Episode 0, where Anne, Kim, Valerie, Jarie and Leslie each reveal their first movie of the season and talk about why they chose it, and how they hope studying it will help them in their own writing.
In our third season, we examined a range of story principles—narrative drive, symbolism, the Virgin's Promise structure, internal genres, adapting a true life story, progressive complications, framing stories, emotional stakes—by looking at some of our favorite movies.
In the process, we each discovered an area of special interest. So for Season 4, we'll each be choosing a single story principle that we want to study for our own writing projects. The plan is to pitch three movies apiece that we think embody the story principle we want to study. Over the course of 15 episodes, we expect to become real experts, and we hope you'll come along too!
ANNE'S SELECTION
For Season Four, Episode one, I've pitched Cloud Atlas, by Lana and Lilly Wachowski. It's based on one of my favorite novels, David Mitchell's Cloud Atlas, published in 2004.
The story principle I want to study this season is complex nonlinear structure. You might recall that I'm the meanie who made the team analyze both Charlie Kaufman's Adaptation and Christopher Nolan's Inception in Season Three. I'm going to continue to challenge myself and them with similar brain teasers in Season 4.
Why is that? Not just because I like tormenting my fellow Roundtablers. Cloud Atlas is the model I'm using to structure my own novel, and it's way more masterful and tricky than I was capable of emulating a year and a half ago.
But 40 weekly in-depth story analysis sessions with my great Roundtable team, and a year of working with clients on their many stories, I feel ready to try again.
Cloud Atlas embodies two narrative devices that I want to use, and use well, in my own current novel: a nested, nonlinear story structure, and separate story threads that weave together in the end. How do the masters decide where to start and stop each thread? How do they keep mystery from becoming confusion? How much do they conceal, and why? How much do they reveal, and when?
If I can figure that out, my novel might have a chance. Its working title is Stereogram and it has a global genre of Society, subgenre woman-vs-patriarchy. It's a true miniplot, with five or six separate but interwoven character stories. It's also historical, set around 1905 here in my hometown of Portland, Oregon, but with slightly more magic.
So my hope is that joining the four fine analytical minds of the Editor Roundtable in analyzing Cloud Atlas — plus my two other movies over the course of the season— will help me see a path to completing my own novel.
So: Jarie, Kim, Leslie and Valerie: I'm counting on you, my friends!
LESLIE'S SELECTION:
Genre conventions are the characters, settings, and means of turning the plot that set up reader expectations and are paid off by the obligatory scenes. Think of them as the conditions or ingredients required to create a specific cause and effect pattern for the genre. Now you can find a list of the basic action conventions in the show notes for Wonder Woman and Jack the Giant Slayer. So why am I digging deeper into this topic?
Shawn has identified four subgenres within Action—Adventure, Duel, Epic, and Clock—and each subgenre has four plots. The subgenres and plots come with additional conventions that are important to telling those stories but don't appear in the current official Story Grid cheat sheets.
My goal this season is to begin identifying those extra conventions, but I also want to better understand conventions so I can innovate and meet reader expectations in my own action story.
For episode 2, I've pitched Pirates of the Caribbean: The Curse of the Black Pearl, written by Ted Elliott and Terry Rossio and directed by Gore Verbinski. It's based not on a novel, but the Disney theme park attraction. The genre is Action-Duel with a Hunted plot.
I chose to start my exploration with Pirates of the Caribbean because my work in progress is also a nautical story (a category with its own conventions) and because the Hunted Plot contains some particularly distinct and interesting conventions. My other two pitches this season will be stories from two of the other Action subgenres.

Along the way, I'll talk about how to identify and analyze conventions in a Masterwork—no matter the genre and call out the conventions in the films chosen by my fellow Roundtable editors.
I'm really looking forward to season 4 and sharing my discoveries about action conventions. Pirates of the Caribbean will be featured in episode 2, and we'll post it on January 16. See you then!
JARIE'S SELECTION:
Dialogue can make or break a novel, play, or movie. It's the glue that holds the story together and is the Yin to Narratives Yang. Without crisp, realistic, and meaningful dialogue, the story will fall flat. I'm going to explore the best ways to write dialogue that is driven by the set and setting of the story.
In Dialogue, McKee gives the reasons why great dialogue is essential to a great story:
No matter how lavish a play's production, how vivid a novel's descriptions, how lush a film's photography, character talk shapes the deepest complexities, ironies, and innerness of story. Without expressive dialogue, events lack depth, characters lose dimension, and story flattens. More than any other technique of characterization (gender, age, dress, class, casting), dialogue has the power to pull a story up through life's multi-layered strata, thus lifting a merely complicated telling into the full array of complexity.
Dialogue is an essential element of all stories and needs to be crafted in a way to move the story forward in combo with narrative drive. Studying great dialogue will help writers write better dialogue. It's the same reason we study the masterworks — we want to study how master storytellers do it.
My first movie will be The Shawshank Redemption, posting on January 30. It's an excellent example of how the set and setting of a story drives the dialogue. There are so many wonderful moments in it that show and tell what the characters are going through in spectacular detail.
VALERIE'S SELECTION:
In Season 4 I'm going to continue my study of narrative drive.
As a quick refresher, narrative drive is all about how much information the audience has with respect to the characters. Who knows what? How much do we, as writers, reveal? How do we parcel out that information, when and why?
Some of you already know that I'm a writer as well as an editor; in fact, I'm primarily a writer. So naturally, this question of what keeps a reader turning pages, fascinates me.
Now, of course, there isn't just one thing that grabs and holds a reader's attention, but I'm convinced that narrative drive is a key factor. No matter which genre you write in, or whether your global content genre is external or internal, understanding narrative drive is essential.
For example, I write women's fiction, so when that includes a love story, holding the reader's attention can be a challenge. The genre has been well covered, and most modern love stories have a happy ending. If the reader knows the ending, how else can I create curiosity?
I'm branching out now into thrillers and my current work-in-progress poses a particular challenge with respect to narrative drive.
Thrillers require suspense. In other words, the audience and the characters have to have the same amount of information.
But the topic I've chosen puts me smack dab into dramatic irony; my readers are going to have WAY more information than my characters even before they crack the cover.
This is a problem.
I have some ideas about how to handle it, but if there's one thing that my time with Story Grid has taught me, it's study masterworks!
When we looked at Get Out in Season 3, I learned that writers can use more than one form of narrative drive to propel a story forward. That said, I've tried to choose films that rely heavily on one form over the other two. My hope is that by isolating them (as best we can anyway) we can do a deep dive into this principle of storytelling, and get a really good look at what each of these things are and how they work.
I'm also writing a 3-part series on the Fundamental Fridays blog about narrative drive, so keep an eye out for that.
For this podcast though, the first thing I'm going to look at is Mystery — this is when the characters have more information than the audience. To study it, I've chosen the 1974 version of Murder on the Orient Express. Who better to learn mystery from, than the Queen of Mystery herself, Agatha Christie!
I've also chosen films for suspense and dramatic irony, but I'm not going to tell you what they are. Mystery requires that I (as the protagonist of this story) have more information than you (as the audience).
Whether you realize it or not, your curiosity has been piqued. You're wondering what the other two movies are? You want to know which stories are excellent examples of suspense and dramatic irony.
Murder on the Orient Express is Episode 3 of Season 4, and it will air on January 23. I'll see you then!
KIM'S SELECTION:
I came into the Story Grid as a writer first and so for Season 4, I'm continuing my in-depth study of Global Internal Genre stories, specifically the kinds of stories I want to tell as a writer.
Internal Genres remain the squishy un-pin-downable topic for a lot of writers in the Story Grid Universe, and so whether or not you seek to tell Global Internal Genre stories, studying them at a deep level (by getting as specific as possible) will help you execute them at any level.
The first Global Internal Genre story I will have us look at is The Fundamentals of Caring.
The Fundamentals of Caring is a 2016 comedy-drama film (something I am pretty sure is code for humorous global internal genre) written and directed by Rob Burnett, based on the 2012 novel The Revised Fundamentals of Caregiving by Jonathan Evison and stars Paul Rudd, Craig Roberts, and Selena Gomez. It premiered at Sundance before airing as a Netflix Original film.
The story is about Ben, a writer who's stopped writing due to a personal tragedy, and Trevor, an 18-year-old who suffers from Duchenne muscular dystrophy. Ben takes a new job as Trevor's in-home caregiver, something that proves to be a challenge and growth point for them both. This story definitely ticks the boxes for me and the kind of stories I write: humorous, heartfelt, a prescriptive tale that delivers a redemptive perspective on pain.                                                                                                                                                                                                                                                                                                                                                                                                                                                                                                                                                                                                                                                                                                                    
This season, along with Friedman's Framework, there are four areas I am specifically analyzing for:
1) How the life values are established in the BH (status quo) and how they are demonstrated to change over the story spine. I'm looking for specific elements, actions, dialogue that transmit the life value–something tangible I can point to and model after.
2) Which External Genres are used and how many? Does the story have one strong external genre that acts like a copilot, multiple interwoven external genres that act like subplots, or something else? Also, are there any recurring patterns or strong pairings we can identify?
3) What is my overall feeling of emotional satisfaction at the ending, and why? Would I change anything in the story to change or strengthen the audience's emotional experience?
4) And finally, as with all stories, I want to step back to the meta-meta-meta story and ask myself what this story means, for me and the world. What is the theme / controlling idea that transcends genre to just being human?
This is my favorite thing about Story–the transformative power of witnessing a specific character in a specific situation experiencing a specific change that then yields this specific pattern of universal meaning. Meaning that I can interpret and take with me to apply to my real world. For me, as a writer/reader/editor/human, this is what storytelling is all about.
So glad to have you with us on this journey. Stay tuned for Season 4–The Fundamentals of Caring will air as episode five in early February. It's going to be great.
Join Us!
So there you have it. Fifteen episodes, diving deep into five story principles:
Nonlinear story structure

Conventions of the Action subgenres

How set and setting drive dialogue

The three forms of narrative drive

Stories with a global internal genre
Watch for a couple more bite-size episodes during our holiday hiatus. We'll see you on January 9 for the premiere of Season 4.
FOR SHOW NOTES ONLY: Your Roundtable Story Grid Editors are Jarie Bolander, Valerie Francis, Anne Hawley, Kim Kessler, and Leslie Watts.
Download the Math of Storytelling Infographic
---
Share this Article:
🟢 Twitter — 🔵 Facebook — 🔴 Pinterest
GET 100% OFF A STORY GRID BOOK OF YOUR CHOICE
GET 100% OFF A STORY GRID BOOK OF YOUR CHOICE
Sign up below and we'll immediately send you a coupon code to get any Story Grid title - print, ebook or audiobook - for free.
(Browse all the Story Grid titles)